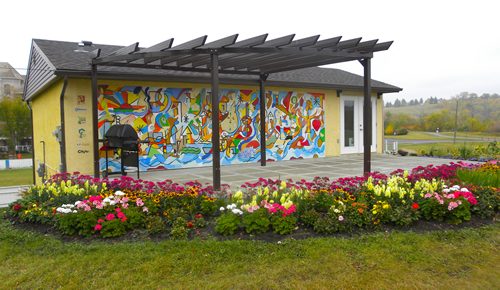 Riverdale House
and Rinkhouse
Riverdale House Manager: Therese Lemire
Riverdale House is comprised of the rinkhouse on the bottom floor for skaters and a bookable room on the upper floor.
The upper floor of Riverdale House can be booked by LEAGUE MEMBERS ONLY. The event does not have to be related to the use of the ice rink.
See the Riverdale House booking calendar below, for availability.
Upper Floor Rental Rate:
Private Event: Minimum $50 per event; the final price will depend on the length of rental time and the nature of the event.
League-Sponsored Events that are open to all Riverdalians: Rent-free
You are expected to leave Riverdale House clean enough for the next user, but a thorough cleaning of floors etc. will be done weekly by Riverdale staff.
Capacity:
Standing or sitting, no tables: Approx. 40
Table Seating: Approx. 25-30
Inquiries:
To book Riverdale House, use the form below. The manager will contact you to confirm availability, price and to provide further rental details.
Riverdale House Booking Form